Floyd Cooley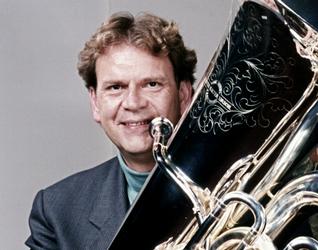 Biography
Nationally and internationally known tubist Floyd O. Cooley has been heard in recital throughout the United States, Europe, Australia, New Zealand and Japan, appearing as soloist, clinician, giving masterclasses, and as a former member of the San Francisco Symphony.
Floyd joined the San Francisco Symphony in 1969, at the time the youngest tuba player in any major orchestra in the United States. Since then he has soloed with that orchestra twice. The first was a performance of 1978 under the baton of Seiji Ozawa, and the second was 1982 under the baton of Jahja Ling. An avid performer, Floyd has given recitals in a wide variety of venues from small settings to Carnegie Hall. In addition to performing, he commissioned works by Earl Zindars and Richard Felciano and recorded three solo albums: The Romantic Tuba on Crystal Records, A Schumann Fantasy on Summit Records, and Friends in Low Places on Albany Records. He played the 1992-1993 season with the Chicago Symphony Orchestra.
As a musician of extremely varied activities and interests Floyd has performed on the Visiting Artist Series in the Quad Cities of Iowa and Illinois, where he played in schools and factories to over fifteen thousand people. No matter what the activity, Floyd has been praised for his sensitive playing, mellow tone and singing melodic line.  The San Francisco Chronicle wrote "the sheer beauty of tone and technical accuracy were amazing.  The effect was operatically vocal. Floyd has been a participant at the Grand Teton Music Festival from 1975-2001.
A native of Iowa, Floyd was the son of a tuba player and grew up in a home that was full of music. He spent one year at Kansas University and received a Performer's Certificate from Indiana University in 1969. While at Indiana he studied with William Bell, and also has studied with Mstislav Rostropovich, Jacob Krachmalnick and Mark Lifschey. He Studied with Arnold Jacobs from 1968-1998.
In 2001, after 31 years with the San Francisco Symphony Floyd turned his career exclusively to teaching. While he was with the San Francisco Symphony Floyd taught at the San Francisco Conservatory of Music and Stanford University. Currently, he gives master classes and teaches private lessons throughout New Zealand, Australia, Japan, and Europe. He is a faculty member at the DePaul University School of Music where he serves as the Brass Coordinator and teaches tuba, brass concepts, pedagogy, and teaching people to teach one-on-one.
A resident of Chicago, Floyd enjoys the outdoors, fly-fishing, cooking, fine wine and his BMW motorcycle.
---