Stephen Anderson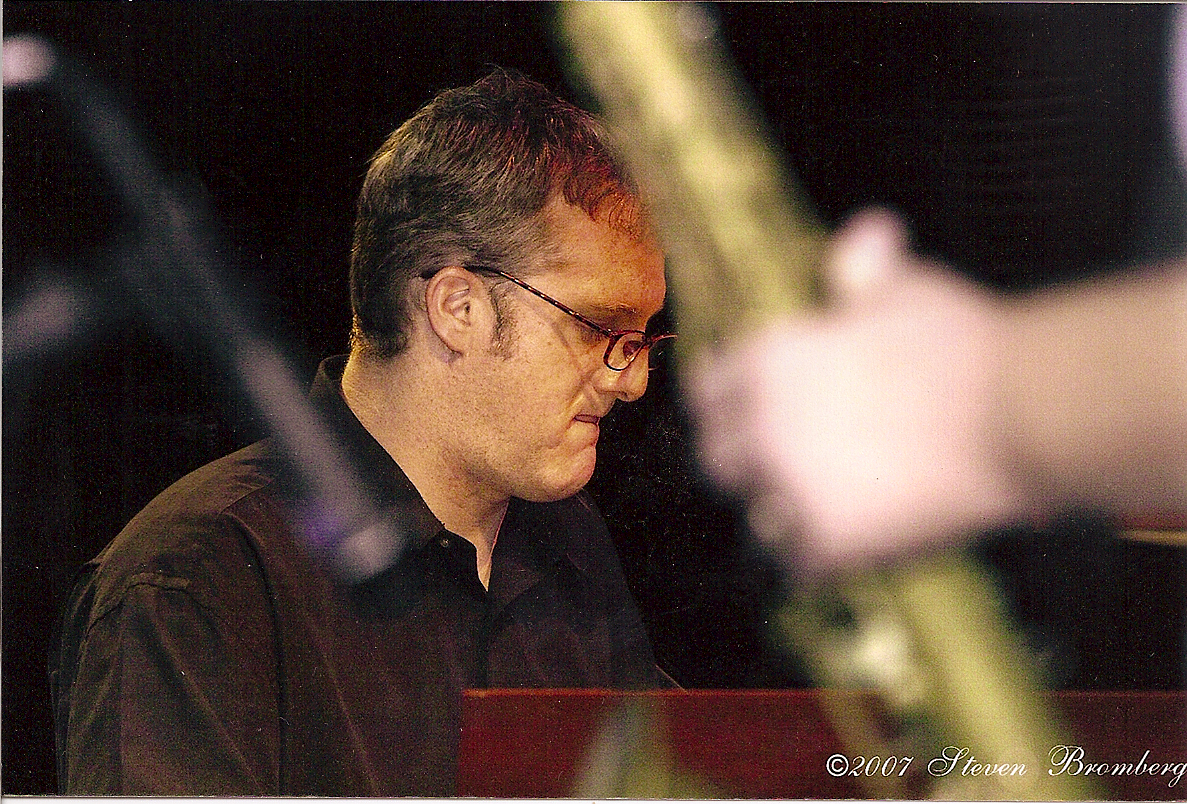 Biography
STEPHEN ANDERSON, composer and pianist, has had works performed by the West Point Military Academy Band, the Dallas Chamber Orchestra, Crested Butte Chamber Orchestra,UNC Symphony Orchestra, Carolina Choir and Chamber Orchestra, Montclair State Wind Symphony, UNC Wind Ensemble, the West Point Jazz Knights, the North Carolina Jazz Repertory Orchestra, the One O' Clock Lab Band, Two O'clock Lab band band, North Carolina Central University Percussion Ensemble, UNC-Charlotte Percussion Ensemble, UNC Wind Ensemble, Duo XXI, and a film score broadcast nationally on PBS.
Anderson has received two awards from the Barlow Endowment—most recently a commission to compose a piano concerto for Steven Harlos (pianist, Dallas Symphony) premiered by the UNC Symphony Orchestra (April 2010), and previously a commission for the West Point Military Academy Band (2005).  Other awards include:  Chapman Foundation Teaching Award (2014) finalist in the West Point Jazz Knights Composers Forum competition (2011), Honorable Mention from the International Society of Basses composition contest (2002), Junior Faculty Development Award-UNC Committee on Faculty Research (2008), the United Arts Council of Greater Greensboro, the UNC Research Council, the "Village Pride, Hometown Hero Award" from 1360 WCHL Chapel Hill Radio (2008), Endeavors magazine feature (2008), and reviews in All about Jazz, Jazz Times, and the All Music Guide (2008), and the PAS Percussive Notes (February 2009).
As a pianist, Anderson is a recording artist for Summit Records.  His Nation Degeneration (2010) and Forget Not (2008) trio CDs each received 4½ stars (out of 5) from the All Music Guide—Forget Not was nominated best jazz "Debut CD" (3rd Annual Village Voice Jazz Critics Poll 2008)—Nation Degeneration was selected to represent Summit Records at the 53rd Grammy Awards in the category of "Best Jazz Instrumental Album"—both recordings have been widely performed on radio nationally.   Previously, Anderson was pianist with the Lynn Seaton Trio, appearing on two recordings for Nagel Heyer Records, Puttin' On the Ritz (2005) and Ballads 2006.  Anderson performed with the North Texas One O'clock Lab Band (Lab 2001) and Two O'clock Lab Band (Translucent Two), was winner of the Lionel Hampton Jazz Festival piano competition (1997), and was the keyboardist for gold-recording (country) artist, Kevin Sharp (1996-1997).
Anderson holds a D.M.A from the University of North Texas (2005), served as Assistant Professor of Jazz Piano at Western Illinois University (2003-2005), and is currently Assistant Professor at the University of North Carolina at Chapel Hill in Jazz Studies and Composition.  He studied composition with Cindy McTee, Joseph Klein, Tom Clark, Joseph Butch Rovan, Phil Winsor, and Paris Rutherford at UNT, and Stephen Jones, David Sargent, Michael Hicks, and Murray Boren at BYU.  He studied jazz piano with Dan Haerle and Stephan Karlson at UNT, Dan Waldis at BYU, Gary Freeman at Eastfield College, and Wilson Brown at Ricks College.
---
ARVE Error: src mismatch
provider: youtube
url: https://www.youtube.com/watch?v=uOvWy3Sb7lY#t=60
src in org: https://www.youtube-nocookie.com/embed/uOvWy3Sb7lY?start=60&feature=oembed
src in mod: https://www.youtube-nocookie.com/embed/uOvWy3Sb7lY?start=60
src gen org: https://www.youtube-nocookie.com/embed/uOvWy3Sb7lY