A Tribute To Herbie +1 – Dick Oatts/Mats Holmquist New York Jazz Orchestra
One of the most distinguished saxophonists in the world of big band, Dick Oatts, teams with mastermind co-leader Mats Holmquist and his stunning arrangements of some of Herbie's most intriguing and subsequently most famous tunes from the '60s and '70s. Throw in some of the best musicians New York has to offer, and the result is one powerful recording!
Featured Artists
Dick Oatts: alto sax, leader
Mats Holmquist: leader, arrangements
New York Jazz Orchestra
Track Listing
Cantaloupe Island • Chameleon • Dolphin Dance • Eye of the Hurricane • Maiden Voyage • Stevie R • Toys • Watermelon Man • Jessica
REVIEW / Downbeat, May 2016: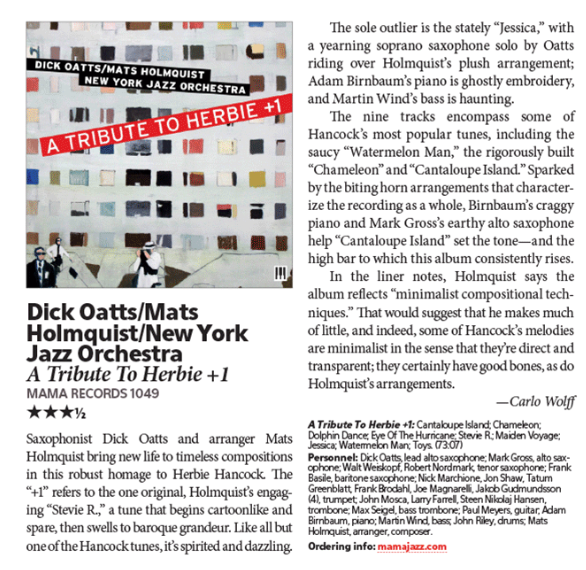 ——————————–
from Jack Bowers, AllAboutJazz.com:
A Tribute to Herbie +1 is Swedish-born composer / arranger Mats Holmquist's third "tribute" album, following well-received salutes to Chick Corea (2003) and Wayne Shorter (2012). For his encomium to pianist / composer Herbie Hancock, Holmquist called upon two of New York City's most respected sidemen, alto saxophonist Dick Oatts and trombonist John Mosca, known and admired, among other things, for their long association with the Vanguard Jazz Orchestra, to assemble an ad hoc orchestra comprised of some of the city's foremost jazz musicians (and enhanced by three Scandinavian stalwarts; more about them later). Holmquist wrote all the arrangements, and the "+1" refers to his composition "Stevie R."; the other themes were written by Hancock.
Holmquist, an avowed admirer of the late great VJO arranger Bob Brookmeyer, writes in a similar vein, a trait that is most conspicuous on, for example, the introduction to "Chameleon," the tasteful ballad "Jessica" (enhanced by Oatts' shimmering soprano saxophone) or his eccentric "Stevie R." There is one perceptible difference (an observation that is in no way meant to disparage Brookmeyer), which is that Holmquist generally swings harder. In Brookmeyer's defense, it must be noted that the Kansas City native could swing as emphatically as anyone (and did) when that was his purpose; when writing for the VJO, however, his stratagem was more often centered on rich tonal colors and understated dynamics, less often on big-band bravado. Without abandoning Brookmeyer's method, Holmquist has taken it a step further and added a more resonant pulse.
Besides those already mentioned, the Hancock staples herein restored are "Cantaloupe Island," "Dolphin Dance," "Eye of the Hurricane," "Maiden Voyage," "Watermelon Man" and "Toys." Holmquist adds bright and harmonious textures to each one, making it sound as fresh as the day it was written. Although he labels his approach "minimalist," Holmquist makes good use of every section including the first-class rhythm component anchored by drummer John Riley and including guitarist Paul Meyers, pianist Adam Birnbaum and bassist Martin Wind. As for the Scandinavians, they are Swedish tenor Robert Nordmark, Danish trombonist Steen Nikolaj Hansen and Norwegian trumpeter Frank Brodahl. While each of them is essential, only Nordmark solos (on "Chameleon" and "Toys"). Another Swede, trumpeter Jakob Gudmundsson, sits in on "Hurricane."
The other soloists, each one of whom is splendid, are Birnbaum and alto Mark Gross ("Cantaloupe Island"), Meyers and tenor Walt Weiskopf ("Chameleon"), Oatts (soprano on "Dolphin Dance" and "Maiden Voyage," alto on "Hurricane"), Birnbaum ("Dolphin Dance"), trumpeter Joe Magnarelli ("Hurricane," "Stevie R," "Maiden Voyage"), Weiskopf and Riley ("Hurricane," "Toys"), Wind ("Jessica") and baritone Frank Basile ("Watermelon Man"). Add to them Hancock's irrepressible melodies and Holmquist's perceptive charts and you have a delectable banquet of big-band jazz designed to assuage almost anyone's appetite.
Track Listing: Cantaloupe Island; Chameleon; Dolphin Dance; Eye of the Hurricane; Stevie R; Maiden Voyage; Jessica; Watermelon Man; Toys.
Personnel: Dick Oatts: co-leader, alto, soprano sax; Mats Holmquist: co-leader, composer, arranger; Nick Marchione: trumpet, flugelhorn; Jon Shaw: trumpet, flugelhorn; Tatum Greenblatt: trumpet, flugelhorn; Frank Brodahl: trumpet, flugelhorn; Joe Magnarelli: trumpet, flugelhorn; Jakob Gudmundson: trumpet (4); Mark Gross: alto, soprano sax; Walt Weiskopf: tenor sax; Robert Nordmark: tenor sax; Frank Basile: baritone sax; John Mosca: trombone; Larry Farrell: trombone; Steen Nikolaj Hansen: trombone; Max Seigel: bass trombone; Paul Meyers: guitar; Adam Birnbaum: piano; Martin Wind: bass; John Riley: drums.
——————————–
Jazz Weekly:
This album by the Dick Oats/Mats Holmquist Jazz Orchestra is not only a tribute to Herbie Hancock's pen, but more specifically to his pen of the early to mid sixties and his Headhunters gazillion seller. Nothing from his last 30 years, which should tell you something about Hancock's influence.
The arrangements by Homquist have some creative works on the brass and reed sections, playing "Peek a boo" on a funky "Chameleon" and some staggering section work on a sunny "Maiden Voyage." Adam Birnbaum' s piano is graceful on "Dolphin Dance" and there is fire in the belly of Joe Magnarelli/tp and Walt Weiskopf/ts as John Riley's drums drive hard on "Eye Of The Hurricane." The horns are warm on "Stevie R." and all throughout, the harmonies are fragrant, most noticeably on "Toys," reflecting a hint to the original session way back when. The good thing about this al bum is that it doesn't necessarily make you crave for the originals; they hold well on their own merits.