Brooke Sofferman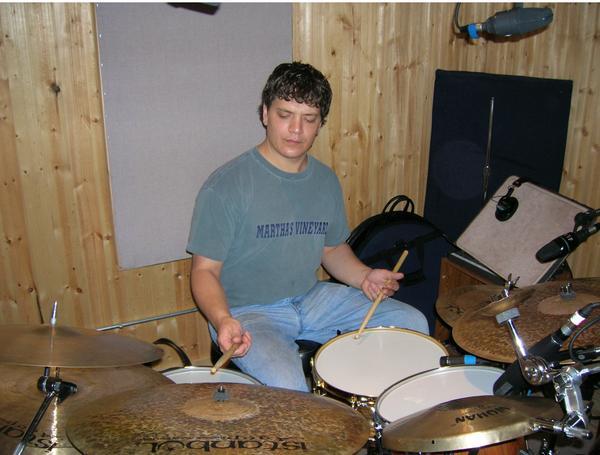 Biography
Drummer / composer Brooke Sofferman has been performing throughout the East coast for the past twenty years, in a vast array of musical situations. Originally from Colchester, Vermont, Brooke moved to Boston to further his musical education at the New England Conservatory of Music.
At NEC, where he attained his Bachelor's and Master's degrees in Jazz Performance, his studies with jazz legends George Russell, Bob Moses, Danilo Perez, Jerry Bergonzi, George Garzone, Cecil McBee, John Abercrombie, Fred Buda (Boston Pops) and John McNeil were vital to his development as a drummer and composer. Brooke attended NEC on scholarship and led the NEC Honors Jazz Quintet, which featured performances at Boston's finest concert halls.
Brooke is now on the faculty of NEC, where he teaches ensembles and private lessons, along with his extensive private teaching schedule.
Brooke continues to perform/record around New England, New York and the East coast with many of the top tier jazz musicians, such as Jerry Bergonzi, John Medeski, Chris Potter, George Garzone, Bruce Gertz, John Lockwood, Bevan Manson, Herb Pomeroy, and John Abercrombie to name a few. Besides performing live with his group and as a sideman, he has been on over a dozen recordings in the past year.
Along with his performing and recording credits, he is also endorsed by Sonor drums, Istanbul Agop Cymbals and Pro-Mark drumsticks and brushes.
Brooke's first CD as leader, "Modesty's Odyssey" has received over thirty rave reviews from publications such as Jazz Times, Downbeat, the Boston Globe, the Boston Herald and Modern Drummer, to name a few. It featured tenor giant Jerry Bergonzi and play-by-play liner notes, provided by modern guitar legend, John Abercrombie.
"Brooke covers a lot of ground on his exclusively original debut. From time, to no time, changes to none, in and out, and always having big fun. This is what it's all about after all, takin' some chances, and having a ball. This is real serious music, for the young at heart. I really enjoyed this." -John Abercrombie
Brooke's second album, "The Green Between," was released by Summit Records in March of 2002. Summit Records is distributed world-wide by Allegro Music, one of the top jazz distributors in the business. "The Green Between" has been featured and reviewed in the Boston Globe, (Top 10 CD's of 2002) Jazz Times, Jazziz, LA Jazz Scene, AMG, All About Jazz, 52nd Street Jazz Review, Beyond Coltrane, Modern Drummer, Percussive Arts Society and dozens of other publications and online sites.
On "The Green Between," Brooke is again joined by Jerry Bergonzi on tenor, along with trumpeter Phil Grenadier, guitarist Norm Zocher, pianist Jacques Chanier, bassist Thomson Kneeland, and special guest vocalist on two tracks, Abby Aronson.
Brooke's latest CD as a leader, "One Stone, Two Birds" has received the most accolades of his three CD's featuring rave reviews in Downbeat, Jazz Times, Modern Drummer, the Boston Herald to name a few. The Sofferman Perspective continues to play in festivals such as the Cambridge River Festival, The Boston Globe Festival, the Key Maine Jazz Fest, the Discover Jazz Festival, and the Litchfield Jazz Fest to name a few, along with showcase performances in high-profile Boston concerts like Symphony Hall, Jordan Hall, the Berklee Performance Center, and world class jazz club, Sculler's for the recent CD release of "One Stone, Two Birds."
---