Carol Adee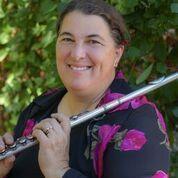 Biography
Flutist Carol Adee was born in Hollywood and got her early musical training on her mother's knee, banging out octaves to Chopin, Schumann and She'll Be Comin' Round the Mountain.
After completing her Master's Degree at Yale School of Music where she worked with Thomas Nyfenger, she came to San Francisco to seek her fortune.
Performing and recording as Principal Flutist of the Women's Philharmonic, as well as extensive free-lance work with all the major orchestral ensembles in the Bay Area, has given her a good healthy dose of orchestral playing.
As a relentless advocate for new music, she has worked for George Coates Performance Works, Alternate Currents Performance Ensemble, Composer's Cafeteria, ISKRA, Earplay, and Composers Inc., collaborating with composers and presenting their works.
Carol has taught flute and chamber music with many interesting students including a year as lecturer at Stanford University, guest coach with San Francisco and Oakland Youth Orchestras and the Marin Academy of Music program.
Carol Adee's debut solo CD "Bach to Nature" (Well Tempered Productions) presents 3 of JS Bach's Cello Suites transcribed for flute and set in the wilderness. The transcriptions are her own and the sounds of nature were collected by herself and friends on various auditory adventures in the wilds of California and Brazil.