Chuck Marohnic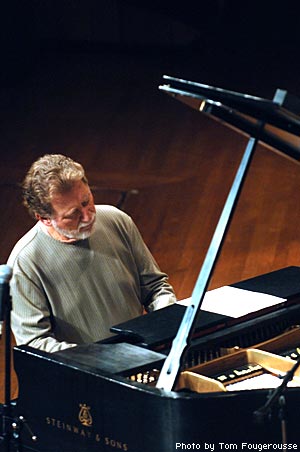 Biography
Chuck Marohnic has enjoyed a multi-faceted career. Starting four decades ago as a jazz pianist, today he is a respected musician, educator, author, composer and arranger.
Church Musician for 20 years, Chuck has had the privilege of serving as Music Director in numerous churches including United Methodist, Roman Catholic and United Churches of Christ. He is also a frequent guest performer and clinician at many churches and church conferences throughout the US. He served for 5 years as Director of Music for the now well known Studio Worship service at Scottsdale Congregational United Church of Christ in Scottsdale, AZ, After retiring from Arizona State University in 2003 as Director of Jazz Studies and moving to Louisville, KY with his wife Mary Ann, Chuck was asked by Eric Elnes, now senior Pastor at Countryside Community Church in Omaha, NE to help develop a jazz based worship service there. During this period, Rev. Elnes approached Chuck with the idea of an Internet ministry. Both Eric and Chuck worked on developing what is now known worldwide as Darkwood Brew where Chuck serves as Music Director leading a jazz quartet.
His ministry Sanctuary Jazz now includes numerous published books of jazz arrangements of church hymns for several major publishers and many CD recordings. For a full discography and bibliography of Chuck's work, visit his Sanctuary Jazz page. Chuck also serves Music Serving the Word Ministries, Phoenix, AZ as Director of Workshops and Pedagogy. He is currently composing and arranging the Jazz Book of Psalms for MSW Publications.
Innovative Pianist Chuck has recorded 35 albums and CD's. Downbeat Magazine awarded his performances 4 stars. Rolling Stone Magazine's review states "Marohnic's ingenious changes and arrangements show that he should not be overlooked." Cadence Magazine concluded, "The Chuck Marohnic Trio could become the standard of interactive mastery in this decade." Early in his career, Chuck worked as a sideman with Ira Sullivan, Joe Henderson, Jamey Aebersold, Buddy Rich, Chet Baker and many others.
International Educator/Performer Chuck has served as a visiting clinician and performer at festivals in Germany, Brazil and France. For five years he acted as Coordinator of Jazz Studies and a guest artist at the Fairbanks Summer Arts Festival in Fairbanks, Alaska. In May of 1998, Chuck visited Brazil for a second time where he performed concerts and presented clinics for a week's residency. While in Brazil he recorded an instructional video for MPO entitled The Creation of a Solo Jazz Piano Arrangement. Chuck has also been invited to perform the Concerto with the Bulgarian National Youth Symphony Orchestra for a European tour in the Fall of 2000.
University Professor Having retired in 2003, Chuck was the Director of Jazz Studies at Arizona State University since 1981. His former students include John Medeski of Medeski, Martin and Wood; Scott Henderson of Tribal Tech; Phil Strange, formerly with Joe Henderson; German pianist Klaus Ignatzek; Tim Ray, pianist for Lyle Lovett; and Joey Sellers, now a prominent educator/arranger living in S. California.
Author, Arranger Chuck has written 4 jazz publications. His books on jazz education include "How to Create Jazz Chord Progressions", "12 Keys to Jazz Concepts", "50 Practical Pro Tips", and "Jazz Keyboard Study" from Advance Music Publishers. In addition, Chuck has written jazz piano arrangements of familiar church hymns and worship and praise songs, taking them from inside church walls to the entire community. What started as a sabbatical leave project from his position as Director of Jazz Studies at Arizona State University, turned into a book entitled Sanctuary Jazz, (July 1998, Shawnee Press). Joseph Martin, acclaimed pianist and keyboard editor for Shawnee Press says, "Chuck is one of the best writers in the country today." Since this first book was published, Chuck as written eight collections of piano arrangements and three collections of brass quintet music for Shawnee Press and Morningstar Music Publishers.
Composer The Jazzbird Foundation of San Diego, California commissioned Chuck to write a Concerto for Jazz Piano and Orchestra. The composition, entitled Desert Spirit, premiered with the Arizona State University Symphony Orchestra on March 8, 2000. Chuck is now accepting reservations from orchestras to perform his concerto. Chuck has composed hundreds of jazz compositions, many of which have been recorded by prominent jazz artists. His compositions can also be heard on his CD's.
---