Thomas Bacon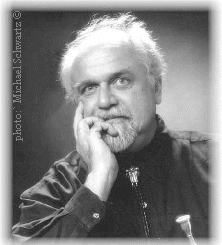 Biography
Regarded as one of the leading contemporary French horn players, Thomas Bacon, who was profiled in Michael Meckna's Twentieth Century Brass Soloists (1994), performs as a soloist wordlwide, drawing enthusiastic reviews from critics, who praise his flawless technique and refined musicality, a German reviewer describing Bacon's playing as beautifully "dreamlike."
Born in Chicago, in 1946, Bacon has held principal horn positions in a number of major American orchestras, also playing in chamber ensembles. As a soloist, Bacon is an extraordinarily versatile musician, with a rich repertoire encompassing Renaissance music (in arrangement), the Classical masterpieces, Romantic works, as well as modern and contemporary compositions, including jazz pieces. Not only does Bacon play a large repertoire but his mastery includes all the aspects of an instrument which has developed considerably throughout its rich history, from the valveless horn, used by Baroque and Classical composers to the modern instrument (with valves), whose remarkable expressive potential was fully exploited by Romantic and modern composers.
Bacon's discography includes Renaissance Faire (arrangements of Renaissance music), Fantasie (a disc of Romantic music played with pianist Phillip Moll), and Nighthawks (the complete music for horn and piano by Alec Wilder). The last-named disc was listed among the Ten Top CDs of 1995 by American Record Guide critic Barry Kilpatrick.
A member of several brass ensembles, including the St. Louis Brass Quintet, Bacon has commissioned many horn pieces from composers working in a variety of styles, in an effort to bring classical music to a wider audience. Also a distinguished teacher, Bacon has conducted master classes throughout the world, also teaching at several prominent universities. In addition, Bacon edits the Complete Hornist series.
---