Extension Ensemble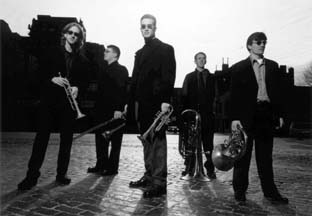 Biography
The Extension Ensemble has built a reputation for daring and innovative programming since its inception in 1998 in New York City, and performs a wide variety of contemporary music.  While commissioning over ten works and presenting concerts which include new music as well as improvisation, it has actively set out to expand both the brass repertoire and audiences' conceptions of a contemporary brass quintet.
The past few years has found the Extension Ensemble in hibernation, with all the members adjusting to different phases of life, personally and professionally. The quintet has made plans to record John Cage's Atlas Eclipicalis in August 2011, and to resume their concert schedule over the next year.
In addition to its NY recital schedule, the Extension Ensemble has been featured in concert at festivals such as Works & Process at the Guggenheim Museum , Cross Currents at the Cooper Hewitt Museum of Modern Design, Ars Vitalis at the New Jersey New Music Forum, Juilliard's Focus Festival, the New York Brass Conference, and the Aspen Music Festival.
The individual members bring an array of talent and experience to the ensemble, having performed with groups as diverse as the Kennedy Center and Metropolitan Opera Orchestras, New Jersey Symphony, American Symphony Orchestra, the Village Vanguard Orchestra, Absolute Ensemble, Broadway shows, commercial recording studios, and numerous jazz and avant-garde ensembles.
The Extension Ensemble recognizes the importance of working closely with future audiences and performers, and has given masterclasses at The Juilliard School as well as many public schools.
The Extension Ensemble has received first prize at both the Fischoff and Monterey Bay international chamber music competitions, as well as the New York Brass Conference Quintet Competition. The ensemble also received the first ever performance fellowship for a brass quintet from the Aspen Music Festival.