Denson Paul Pollard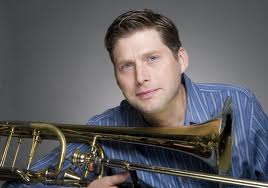 Biography
Denson Paul Pollard began as bass/tenor trombonist with the New York Metropolitan Opera Orchestra in September, 2007.  Pollard was the bass trombonist of the Hong Kong Philharmonic from 2001-2007.  He has also been bass trombonist of the Civic Orchestra of Chicago, the Cedar Rapids Symphony, the Illinois Symphony Orchestra, the Des Moines Metro Opera Orchestra and the principle trombonist of the Waterloo/Cedar Falls Symphony Orchestra.  Pollard has played with the New York Philharmonic, the Chicago Symphony, the Houston Symphony Orchestra and the Los Angeles Philharmonic.  His teachers have included Dr. Jim Roberts, Dr. David Gier, George Krem, Charles Vernon and Joeseph Alessi.
Pollard was awarded the Master of Musical Arts degree and the Doctorate of Musical Arts in performance and pedagogy from the University of Iowa, where he served as a teaching assistant in the areas of musicology, jazz and applied trombone.  Pollard holds a Bachelor of Science degree in music education from Jacksonville State University in Jacksonville, Alabama.  Dr. Pollard has taught at the Hong Kong Academy for the Performing Arts, Hong Kong Baptist University and Hong Kong Chinese University.  During the 2000 year, Pollard was professor of trombone at the University of Northern Iowa.  Currently, Dr. Pollard is a member of the brass faculty at Montclair State University, the Conservatory of Music at Purchase College and during the summers, the Pacific Music Festival in Sapporo, Japan.
As a commercial musician, Pollard has played with numerous shows.  He was the tuba/bass trombonist with tours of the revival of Showboat and the off-broadway touring production of Annie.  He played bass trombone for an 18-month tour with Andrew Lloyd Weber's Music of the Night and the Barry Manilow Concert Tour.
Pollard is a passionate champion of the bass trombone as a solo instrument and has played solo recitals all over the world.  He has been a featured soloist with the Houston Symphony Orchestra, the Hong Kong Philharmonic, the West Point Military Academy Band, the Hong Kong Academy for the Performing Arts Wind Ensemble, the Jacksonville State University Wind Ensemble, the University of Iowa Chamber Orchestra, the Des Moines Community Orchestra and numerous community bands across Iowa, USA.  He performed a solo recital as a featured artist at the 2008 Eastern Trombone Workshop in Washington, D.C. and was a featured soloist at the 2009 Asia Trombone Festival in Taipei, Taiwan.  Recently, Pollard was featured as a soloist with the US Army Band at the 2010 Eastern Trombone Workshop.
---