George Genna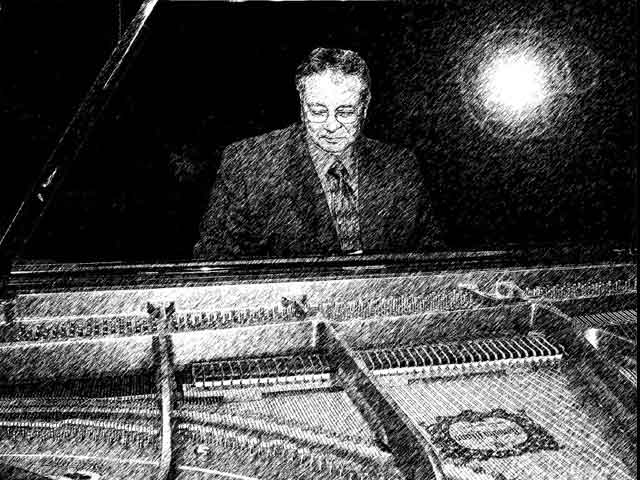 Biography
The pursuit of musical honesty has been the theme of pianist, composer, and educator George Genna.His life has been a constant balancing act between the dual existence of professional musician and professional artist. From humble beginnings growing up on a farm in southern New Jersey he obtained a BA in piano followed by touring the country in top showbands of the late 60's and early 70's.
This life was supplanted by a return to the east coast and 10 years of intensive study with the late great maestro Dennis Sandole of Philadelphia. During this period of intense artistic endeavor he performed many recitals of his original compositions as solo pianist and with ensembles throughout the area. Eventually re-entering the professional world there followed several years of work as accompanist for some of the greatest show business acts of the time including several years touring with Sammy Davis Jr.
From the 1980's to the 1990's he served as pianist and or musical director for a wide range of top acts such as Frank Sinatra, Jerry Lewis, Chubby Checker, The Flamingoes, The Three Degrees, Lloyd Price, Davy Jones, The Skyliners, Leslie Gore, Cybil Shepard, Rosemary Clooney, Tony Bennett, Rita Moreno, Charo, Paul Sorvino, Regis Philbin, Donna Summer, and Pointer Sisters, to name a few.
The late 1990's saw another surge toward the artistic side and he renewed his quest for personal improvement.  He obtained a Master Degree in jazz studies from Rowan University and accepted the position there of jazz piano instructor. He continued his studies during this period with Jack Reilly and Bill Charlap. His own career in jazz began to gain momentum in this period featuring performances with the likes of Joe Lovano, Randy Brecker, Jack Sheldon, and others.
After toiling in the background for many years, he began working under his own name. The year 2004 saw the release of a new album by the George Genna Trio entitled "Chain Of Events" to critical acclaim. His creative life remains active with teaching, writing and performing.
---