George Walker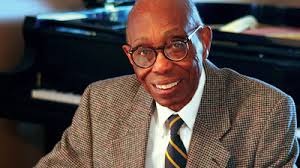 Biography
George Theophilus Walker was born in Washington, D.C. June 27, 1922 of West Indian-American parentage.  His father emigrated to the United States, where he became a physician after graduating from Temple University Medical School in Philadelphia.  George Walker's mother, Rosa King, supervised her son's first piano lessons that began when he was five years of age. His first teacher was Miss Mary L. Henry. Mrs. Lillian Mitchell Allen, who had earned a doctorate in music education, became his second piano teacher.
Before graduating from Dunbar High School at age 14, George Walker was presented in his first public recital at age 14 at Howard University's Andrew Rankin Memorial Chapel.  He was admitted to Oberlin College as a scholarship student in 1937 where he studied piano with David Moyer and organ with Arthur Poister.  In 1939, he became the organist for the Graduate School of Theology of Oberlin College.
Graduating at 18 from Oberlin College with the highest honors in his Conservatory class, he was admitted to the Curtis Institute of Music to study piano with Rudolf Serkin, chamber music with William Primrose and Gregor Piatigorsky, and composition with Rosario Scalero, teacher of Samuel Barber.  He graduated from the Curtis Institute with Artist Diplomas in piano and composition in 1945, becoming the first black graduate of this renown music school.
George Walker was presented in a debut recital in Town Hall, New York by Mr. and Mrs. Efrem Zimbalist.  With his "notable" debut, as it was described by the New York Times, he became the first black instrumentalist to perform in that hall.  As the winner of the Philadelphia Youth Auditions, he played the 3rd Piano Concerto of Rachmaninoff with the Philadelphia Orchestra with Eugene Ormandy conducting two weeks after his New York debut in November of 1945.  He was the first black instrumentalist to appear with this orchestra.  The following year, he played the 2nd Piano Concerto of Brahms with the Baltimore Symphony, Reginald Stewart conducting and the 4th Beethoven Concerto with Dean Dixon and his orchestra.  In 1946 George Walker composed his String Quartet no. 1. The second movement of this work, entitled, Lyric for Strings, has become the most frequently performed orchestral work by a living American composer. In 1950, George Walker became the first black instrumentalist to be signed by a major management, the National Concert Artists.  In 1954, he made an unprecedented tour of seven European countries, playing in Sweden, Denmark, Holland, Germany, Switzerland, Italy and England in the major cities of Stockholm, Copenhagen, The Hague, Amsterdam, Frankfurt a Main, Lausanne, Berne, Milan and London with great acclaim.
Upon returning to the United States, he taught at Dillard University in New Orleans for one year before entering the Doctor of Musical Arts Degree Program at the Eastman School of Music in 1955.  In 1956, he became the first black recipient of a doctoral degree from that institution as well as an Artist Diploma in Piano.  George Walker was awarded both a Fulbright Fellowship and a John Hay Whitney Fellowship in 1957.  He was the first composer to receive the Whitney award.  He spent two years in Paris where he had composition lessons with Nadia Boulanger.  In 1959, he embarked upon another tour, playing concerts in France, Holland and Italy.  After a recital in London in Wigmore Hall in 1963 that was sponsored by Mrs. Efrem Zimbalist, he received an honorary membership in the Frederic Chopin Society there.
George Walker's distinguished career as a teacher continued in 1960 with faculty appointments to the Dalcroze School of Music, The New School for Social Research, where he introduced a course in Aesthetics, Smith College (1961-68) (where he became the first black tenured faculty member), the University of Colorado (1968-69 as Visiting Professor), Rutgers University (1969-92, where he was Chairman of the Music Department), Peabody Institute of Johns Hopkins University (1975-78) and the University of Delaware (1975-76, where he was the recipient of the first Minority Chair established by the University).
George Walker has published over 90 works for orchestra, chamber orchestra, piano, strings, voice, organ, clarinet, guitar, brass, woodwinds, and chorus.   His works have been performed by virtually every major orchestra in the United States and by many in England and other countries.  His awards include the Harvey Gaul Prize, MacDowell Colony, Yaddo and Bennington Composer Conference Fellowships, two Guggenheim Fellowships, two Rockefeller Fellowships, a Fromm Foundation commission, two Koussevitsky Awards, an American Academy of Arts and Letters Award, a Mary Flagler Cary Charitable Trust Award, the Mason Gross Memorial Award, numerous grants from the Research Councils of Smith College, The University of Colorado, Rutgers University, the National Endowment for the Arts, and the New Jersey Council on the Arts.  He has received two Alumni Awards from the Eastman School of Music, the University Medal from the University of Rochester (1996), honorary doctorate degrees from Lafayette College (1982), Oberlin College (1983), Montclair State University, Bloomfield College, Curtis Institute of Music (1997) and Spelman College (2001).
George Walker has received important commissions from many ensembles that include the New York Philharmonic (Cello Concerto), the Cleveland Orchestra (Dialogus for Cello and Orchestra), the Boston Symphony (Lilacs for Voice and Orchestra), the Eastman School of Music (An Eastman Overture) , the Kennedy Center for the Performing Arts (Violin and Piano Sonata No. 2), the David Ensemble (Five Fancies for Clarinet and Piano Four Hands), Affiliate Artists and Xerox (Guido's Hand), the Pew Charitable Trust (Piano Sonata No. 4), The Boys Choir of Harlem (Cantata), The Cleveland Chamber Symphony (Orpheus), New Jersey Symphony (Pageant and Proclamation), the Mary Flagler Cary Charitable Trust (Modus), the New Jersey Chamber Music Society (Wind Set), Maryland International Piano Competition (Bauble), Columbus Pro Musica Chamber Orchestra (Tangents), New Jersey Youth Symphony (Icarus In Orbit), and the Network for New Music (Abu). In 2005 George Walker was commissioned by the Las Vegas Philharmonic to compose a work to celebrate the 100th Anniversary of Las Vegas. This work is entitled, Hoopla (A Touch of Glee). Also in 2005., he completed a second commission from the Eastman School of Music with Foils (Homage to Saint George ) for Orchestra. The New York Philharmonic also premiered (In Praise of Folly) (1981) that was televised nationally on the PBS program, "Great Performances".   His compositions have been recorded for CBS, Mastersound, Desto, C.R.I., Serenus, Da Camera Magna, BIS, Orion, Mercury, GM and Albany Records.  Some of the major conductors who have performed the music of George Walker include Boreyko, Andrew Davis, Comissiona, DePriest, Jarvi, Levi, Maazel, Mata, Mehta, Muti, Ozawa, Rostropovitch, Robert Shaw, Joseph Silverstein, Skrowaczewski, Slatkin, Hugh Wolf, and Zinman.
In 1996, George Walker became the first black composer to receive the coveted Pulitzer Prize In Music for his work, Lilacs for Voice and Orchestra, premiered by the Boston Symphony, Seiji Ozawa conducting.  In 1997 Marion Barry, Mayor of Washington, DC proclaimed June 17th as George Walker Day in the nation's capitol. In 1998, he received the Composers Award from the Lancaster Symphony and the letter of Distinction from the American Music Center for "his significant contributions to the field of contemporary American Music."  In 1999, he was elected to the American Academy of Arts and Letters. In April 2000, George Walker was inducted into the American Classical Music Hall of Fame in a ceremony at the Library of Congress in Washington, DC.
He also received in May the Dorothy Maynor Outstanding Arts Citizen Award for 2000 from the Harlem School School of Arts. In March of 2001, the Detroit Symphony awarded him their first annual Classical Roots Award  for a lifetime of achievement in American Music. George Walker has been awarded the annual A.I Dupont Award presented by the Delaware Symphony for 2002. In 2003 he was selected for inclusion in the Washington Music Hall of Fame (Washington, DC). In 2005 George Walker was named Honorary President of Ebb and Flow Arts in Maui, Hawaii. A Proclamation from the Borough President of Brooklyn, NY designated April 6, 2005 as " A Celebration for Dr. George Walker." In January of 2007 George Walker received the annual Legacy Award from the National Opera Association. In July 2009, Scarecrow Press released "Reminiscences of an American Composer and Pianist", an autobiography.
---