Jay Hunsberger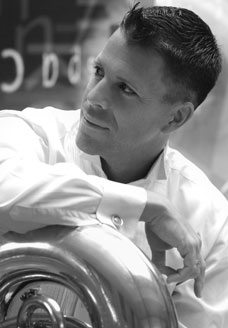 Biography
A native of Wilmington, Delaware, Jay Hunsberger is a prominent teacher and performer across the state of Florida and throughout the Southeastern US.
Mr. Hunsberger is the principal tubist with the Sarasota Orchestra and the Sarasota Brass Quintet. Additionally he is professor of tuba and euphonium at the University of South Florida (Tampa).
A hallmark of Mr. Hunsberger's career has been the substantial number of new works which have been written for him and which he has premiered. In May, 2010 Jay premiered William Brusick's "Concerto No. 2" (for Tuba and Organ) in Tucson, Arizona; he gave performed this work with the USF Symphony Band under the direction of Matthew McCutchen in November, 2011. In 2003 he gave the world premiere of Jan Bach's Concerto for Tuba (the Sarasota Orchestra featured him with this piece again in September of 2009) as well as the regional premiere of William Brusick's Concerto for Tuba and Wind Ensemble. In 2004 he premiered a new work for tuba and organ, "Celestial Keys", by American composer Gwyneth Walker. In the fall of 2006 he premiered Jan Bach's "Oompah Suite" (with James Wilson, horn).
With James Wilson, horn he has performed across the United States. A recording of their trio and duo repertoire (including works by Bach, Bassler, Wilder, Madsen, and Kellaway) was released in early 2011. In June, 2012 their CD won the Roger Bobo Award for Excellence in Recording from the International Tuba and Euphonium Association.
Recent premieres include new works by Francis Schwartz ("Grey Road", "Don Quixote Dreams of Marta") and Gwyneth Walker ("Beloved Bass"). Highlights of his upcoming performance schedule (in addition to appearances with the Sarasota Orchestra) include a new collaboration with cellist Scott Kluksdahl, Philip Sparke's "Tuba Concerto" with the Brass Band of Central Florida, and James Grant's "Double Concerto" with Brandon Jones, John Carmichael, and the USF Wind Ensemble. Works for tuba and organ in collaboration with Jim Cochran will be the focus of Jay's next recording project.
During his tenure at USF, he has developed a tuba/euphonium studio which rivals that of major universities in the US. In addition to the OCTUBAFEST! Series (which features guest and student performances), the studio brings world-renown tuba and euphonium soloists to the Tampa campus for recitals and master classes with USF students. These have included Daniel Perantoni, Oystein Baadsvik, Jason Ham, Adam Frey, Gail Robertson, Stephen Mead, Dennis Askew, Mike Roylance, and many more.
Mr. Hunsberger received both BM and MM degrees in tuba performance from the Indiana University School of Music. His teachers have included Dan Perantoni, Harvey Phillips, Roger Bobo, and Sam Pilafian. Mr. Hunsberger has participated in the Grand Tetons, Tanglewood, and Los Angeles Philharmonic Music Festivals. Jay served on the faculty of the Lutheran Summer Music Academy during 2002 and 2003.
"He is a virtuoso on an instrument that is too often misunderstood and underestimated. Hunsberger brings the tuba into the spotlight with elegance and dynamism and this (the Concerto for Tuba by Jan Bach) is the perfect vehicle for his talents" –The Longboat Observer, March, 2003
"Jay Hunsberger's performance (of James Grant's "Three Furies") was energetic, Accurate and, at all times, Musical" – Sarasota Herald Tribune, April, 2002
"He is one of America's premiere orchestral tubists, an experienced soloist and sensitive chamber music performer."– Harvey Phillips, Distinguished Professor Emeritus of Music, Indiana University
"…The most amazing performance came with Jay Hunsberger's Tuba Solo…With a voluptuous depth of tone he navigated all the intricacies…His colleagues provided a rich accompaniment to Hunsberger's virtuosity." – Sarasota Herald Tribune, October, 2001
"Jay Hunsberger ranks among the best in his profession" – Gwyneth Walker, Composer
---