Gary Versace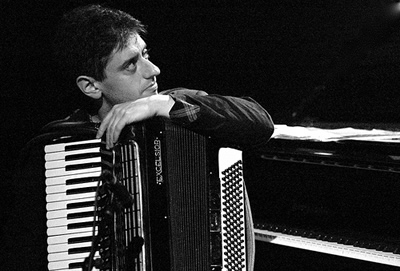 Biography
Since basing himself in New York City in June of 2002, jazz organist, pianist, and accordionist Gary Versace has quickly become one of the busiest and most versatile musicians on the scene, often featured in bands led by musicians such as John Scofield, John Abercrombie, Maria Schneider, Matt Wilson, Lee Konitz, Eliot Zigmund, Scott Wendholt, Joe Magnarelli, Danny Gottlieb, Seamus Blake, John Hollenbeck, Andy LaVerne, Adam Nussbaum, Brad Shepik, Ingrid Jensen, Tim Ries and many others.
Versace was voted a "rising star" on the Hammond organ in the last three Downbeat critics polls, and was the subject of a feature article in the July 2004 issue of Keyboard magazine.
Versace has been a featured soloist on several critically acclaimed recordings of recent years: accordionist on Maria Schneider's Grammy-winning recordings "Concert in the Garden" and "Sky Blue" and as the pianist on John Hollenbeck's Grammy-nominated large ensemble recording, "A Blessing."
Over the past five years, Versace has appeared as a leader for the Criss Cross and SteepleChase labels, and as a sideman on over 50 recordings with artists on various labels including Palmetto, ACT, Omnitone, Songlines, Pirouet, High Note, Justin Time, ArtistShare, Fresh Sound, Kind of Blue, and many others.
As a pianist, Versace performed in a two-piano recital with Marian McPartland, and in April of 1999 appeared on her acclaimed National Public Radio program, "Piano Jazz." McPartland has called him "…endlessly inventive…(Versace) really has an extraordinary talent."
Gary Versace has a masters degree in music performance from the Eastman School of Music, and spent eight years as a tenured associate professor in the jazz studies department at the University of Oregon. He remains active as a clinician and guest soloist both nationally and around the world.
---