Amy Shook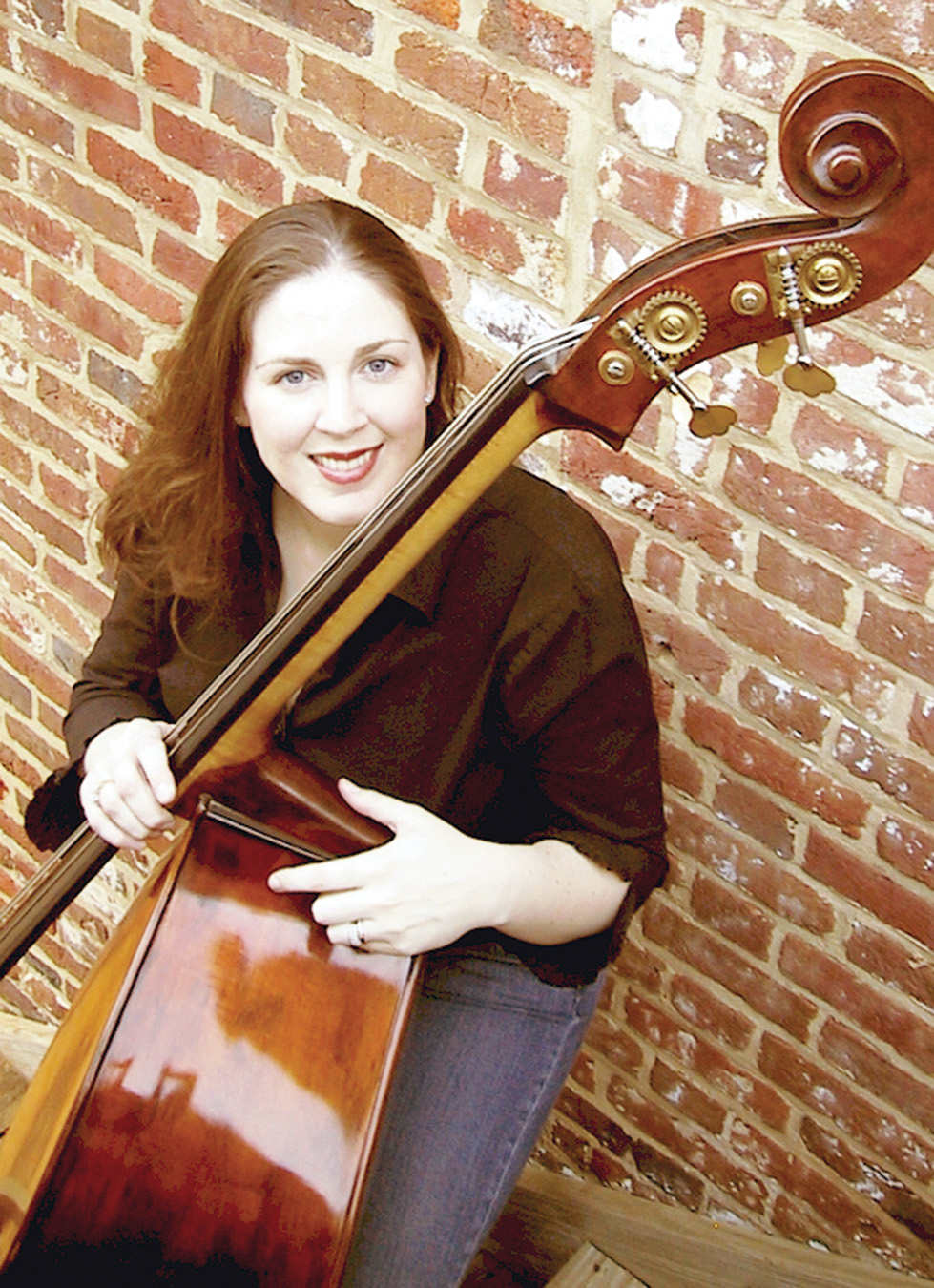 Biography
"If you have a high-resolution audio system, the power and depth of Amy Shook's bass on "Just You/Just Me" will remind you why you spent all that money."
~Thomas Conrad, Jazztimes Magazine, Oct. 2007~
"Amy Shook builds tension in her blues march groove to climax with the inclusion of the rhythm section and the harmonious horns that float, swirl, roll and boil to a gentle simmer, giving way to graceful poise."
"So Far From Home should be in every straight-ahead, jazz lover's house."
~Paul J. Youngman, www.jazzreview.com. 2009~
Since moving to the east coast in 2003, Amy Shook has become one of the most in-demand upright bassists in the Baltimore/Washington, D.C. area, coveted for her huge sound and infectious, driving groove. She is an incredibly versatile musician who enjoys playing jazz standards as well as new music by her local colleagues. She is also an accomplished composer, and her personality truly comes through in her writing. Amy co-leads her own quartet with drummer Frank Russo, and her husband, Pat. Their first album, The Shook/Russo Quartet featuring Greg Gisbert was released on Summit Records in July 2006, and it features all original compositions by Amy, Pat, and the group's pianist, Tim Young. Amy and Frank also co-lead the FAB Trio with jazz pianist extraordinaire, Bob Butta. The trio's first album, The Shook/Russo Trio featuring Bob Butta: Introducing the FAB Trio, debuting new music by both Amy and Bob, was released in July of 2007 on Summit records, receiving national acclaim in Jazztimes Magazine. She has also received national recognition in reviews for her performance on the album Uncertain Path by the Rob Levit Trio, an exciting trio she performs regularly in, with guitarist Rob Levit, and drummer Frank Russo. As a result, she was featured in Bassics magazine on their CD Sampler published with the magazine.
The Shook/Russo Quartet's 2009 release on Summit Records, So Far From Home, once again features trumpet virtuoso Greg Gisbert, and all new music by Amy and Pat. In addition, she is featured on singer/songwriter Felicia Carter's 2008 double CD release Feather/Step Lightly, both as a performer and arranger. Amy collaborated with Ms. Carter, writing music and lyrics for Next Stop: Silver Spring, a television documentary on the B&O Railroad, airing onWETA (DC) in early 2008.
In 2011, Felicia Carter and Amy Shook released their first collaboration "Nothing To Do," receiving great acclaim, leading to multiple performances at Baltimore's award-winning venue, Centerstage, including premier billing for the 2011 four-day Holiday Cabaret.
In addition to her constant performance schedule, Amy is also an accomplished music educator, and holds two bachelor's degrees (performance and composition) and a master's degree (performance) from the University of Idaho in Moscow, ID. Amy also performs and teaches with the Jazz Update, a quartet lead by saxophonist Jeff Antoniuk. The members of this ensemble are integral components of the Washington Performing Arts Society's (WPAS) Capitol Jazz Project in affiliation with Wynton Marsalis and Jazz At Lincoln Center. The Capitol Jazz Project holds an unique partnership with the D.C. Public Schools to support the study of music through jazz instruction and student performance in the schools, as well as through a free summer jazz camp. For more information on this program, visit www.wpas.org.
Amy has performed at such venues as the Kennedy Center for the Performing Arts, The Strathmore Mansion, Blues Alley, Centerstage, and Twins Jazz Club, and many festivals such as the Lionel Hampton Jazz Festival, East Coast Jazz Festival, the Mid-Atlantic Jazz Festival, and the Cape May Jazz Festival. She has shared the stage with such notables as Lionel Hampton, Bobby Watson, Larry Willis, Tim Warfield, Bootsie Barnes, Maureen McGovern, Monica Mancini, Dee Daniels, Lanny Morgan, Jane Jarvis, Claudio Roditi, Al Grey, Bill Watrous, John Stowell, Greg Gisbert, George Mesterhazy, Valery Ponomarev, Wessell "Warmdaddy" Anderson, Ingrid Jensen, Ethel Ennis, Andy Ennis, Slide Hampton, Paquito d'Rivera, Ali Ryerson, Jim Snidero, Frank Lacy, Chuck Redd, Walt Weiskopf, Bruce Barth and Warren Wolf to name a few. She also performed at the White House twice in December of 2009 with the Eli Yamin Quintet by special invitation.
Amy's bass, "L'Oscuro" (The Darker), is made by Luciano Golia of Torino, Italy.
---