Peter Cooper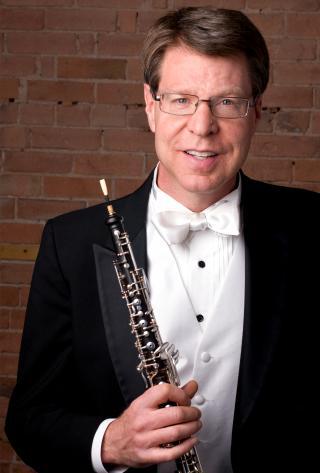 Biography
Recognized for his flexible tone and warm, singing style, Peter Cooper is in demand as a soloist and teacher in Asia, Europe and the United States.
Principal oboist of the Colorado Symphony since 1993 and faculty member at the University of Colorado at Boulder, Cooper also held positions as associate principal oboist of the San Francisco Symphony and principal oboist of the Hong Kong Philharmonic. A strong believer in expanding the solo repertoire for the oboe, Cooper has commissioned and premiered five oboe concertos. In 2000 he premiered David Mullikin's Oboe Concerto with the Colorado Symphony and recorded it in 2001 with Sir Neville Marriner and the Academy of St. Martin in the Fields in London for Summit Records. This disc also includes Richard Strauss' Oboe Concerto. In its review of this CD, BBC Music Magazine, praised Cooper as, "a first rate soloist."
In addition to this recording, Cooper previously recorded Swiss composer Heinrich Schweizer's Oboe Concerto with the London Philharmonic Orchestra. He also premiered concertos by Bill Douglas and Gregory Walker with the Colorado Symphony, and Chen Gang's Oboe Concerto with the Hong Kong Philharmonic. In 2010 the Shanghai Philharmonic invited him to Shanghai to perform Chen Gang's Oboe Concerto as part of the Shanghai International Arts Festival.
In 2000 Summit Records released Cooper's Whispers of the Past, a collaboration recording with harpist Marcia LaBella that garnered critical acclaim. Classical London Magazine lauded the CD as "a well recorded disc with stylish and charming performances," and the American Record Guide critic stated, "Mr. Cooper has my favorite type of oboe sound: sweet, not too harsh, no sharp edges, just a melting soft pastoral tone."
Excerpts from Whispers of the Past are frequently heard on National Public Radio. Invited to perform as guest principal oboist with many noted ensembles, Cooper frequently plays with the St. Paul Chamber Orchestra and has toured and recorded with them. Others noted ensembles with which he has performed as guest principal oboist include the Boston, Seattle, Atlanta, Houston, Milwaukee and San Diego symphonies, and the Israel Chamber Orchestra. A prizewinner in the Tokyo International Oboe Competition, he performed as soloist with orchestras in Japan, China, Hong Kong, Taiwan, Thailand and England, as well as with the San Francisco Symphony. He has been a frequent soloist with the Colorado Symphony. In 1988 he played the first performance of the Richard Strauss' Oboe Concerto in China with the Central Philharmonic in Beijing.
He has coached and toured with the Asian Youth Orchestra in the Far East and the National Repertory Orchestra in Breckenridge, Colorado. Since 2001, he has performed as principal oboist of the Grand Teton Music Festival, and he has performed as principal oboist in the Oregon Bach Festival, St. Barth Music Festival, El Paso Chamber Music Festival and Strings in the Mountains. Cooper plays on oboe made by Marigaux, Paris. Marigaux has sponsored him in a series of master classes and recitals in the United States and overseas in Hong Kong, Japan and China. A 1981 graduate of Northwestern University, Peter Cooper studied with Ray Still and Gladys Elliot.
---