Tom Brantley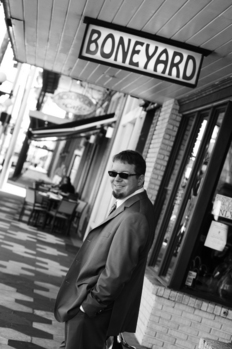 Biography
Tom Brantley, Professor or Trombone, grew up in a musical South Louisiana household, listening to classical, jazz, Latin, soul, pop/rock, country, bluegrass, and Cajun.
A third-generation trombonist, Yamaha soloist, clinician, and recording artist, Brantley performs with the USF Faculty Brass Quintet, Faculty Chamber Players, Jazz Faculty Ensemble, the Jack Wilkins Jazz Group, and Chuck Owen's Jazz SURGE. Brantley was awarded a USF Research Grant to fund a trombone/trumpet CD recording project with colleague Jay Coble featuring a new work, Confluences, by Chuck Owen. His most recent recording is a solo project, Obsessed with Treasure, and in the summer of 2007 he performed with and directed the USF Jazz Enemble at the Umbria Tuscany and Antibes Jazz Festivals in Italy and France.
Trombonist for the chamber group Rhythm & Brass, he has performed in every state in the continental U.S., as well as Japan, Thailand, Saudi Arabia, Canada, and the Caribbean. The group has produced two recordings, a chamber music textbook series, and was featured as the opening concert in the 2002 International Trombone Festival.
Brantley has led master classes and performances at music conferences: the International Trumpet Guild, the International Trombone Festival, the Florida Music Educators Association, and the International Association of Jazz Educators.
He serves as the news editor for both the International Trombone Associate Journal and Website. He is a founding member of the Central Florida Trombone Society, a local affiliate of the ITA.
Brantley holds degrees in trombone performance/jazz studies from the University of Southern Mississippi and the University of North Texas.
---