Dave Wilson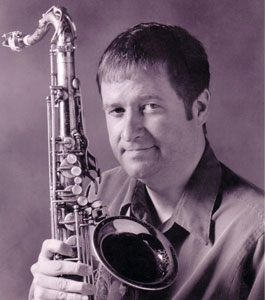 Biography
Born and raised in Bronxville, N.Y., saxophonist Dave Wilson began his music studies in the fourth grade. Wilson has evolved into a striking saxophonist with chops and maturity of tone that invokes passions and enthusiasm when listening to his vocabulary in jazz. He has studied with the saxophonists Joe Lovano, Bill Barron, Ralph Lalama, Tim Price, Glenn Guidone, Tom Stroman, as well as with guitarist Steve Giordano and pianist Kirk Reese.
"As the leader of his own contemporary jazz group, the Dave Wilson Quartet, Wilson and his band mates are known for their exciting improvisations, creative individualistic compositions and unique arrangements of standards. Wilson also led the Canal Street Hot 6, a well known Traditional/New Orleans ensemble for many years, with the trumpet Ben Mauger, one of the top purveyors of this genre on the East Coast. They released the CD, "Back In the Day". The Canal Street Hot 6 made numerous appearances on the East coast including at the Hot Steam Jazz Festival in Essex, CT, the Suncoast Jazz Society in Clearwater, Fla, The Tri-State Jazz Society (Philadelphia/New Jersey/Delaware), Pennsylvania Jazz Society, and at Baltimore's Camden Yards. His current Traditional Jazz Group, Dave Wilson's Rampart Street Ramblers, features an all-star lineup including some of the top names in Mid Atlantic Trad circles, and has already made some major appearances including the 2010 September concert for the Tri-State Jazz Society."
Wilson's was a long standing member of the Dave Stahl Sacred Orchestra and Dave Stahl Big Band. The DSSO released two CD's which he performed on. With the big band he played alongside such Jazz luminaries as Wynton Marsalis, Tom Harrell, Lou Soloff (BS & T), the late Steve Marcus, John Fedchock, Conrad Herwig, Gary Smulyan, Steve Smith (from Journey and John Riley, among others.
The saxophonist released first solo CD in the Fall of 2020 entitled "Through the Time", featuring himself on tenor and soprano saxophones; Kirk Reese on piano; Steve Meashey on bass; and Jeff Stabley on drums. The release was picked up by Dreamscape Records and received significant airplay on WRTI-FM in Philadelphia, and enjoyed additional airplay on over 30 jazz stations nationwide. "Through the Time" found itself on a few individual stations top 5 stats.
A second CD by the Dave Wilson Quartet titled "My Time" was released in late 2005 on Dreambox Media, a leading Independent record company out of Philadelphia. It garnered favorable reviews nationwide, including such publications as The Philadelphia Inquirer, All About Jazz, and Jazz Times. It a favorite at WRTI in Philadelphia as well as some 35-40 jazz stations nationwide. It achieved "Chartbound" status, peaking at #55 on the Jazz Week album chart rankings.
Dave's latest recording "Spiral", featuring internationally known personnel, Phil Markowitz on Piano, Tony Marino on Bass, and Adam Nussbaum on Drums, was released nationally on the Summit Records label in June 2010. It garnered national airplay again achieving Chartbound status, hovering in the top 55 for some 2 months!) and rave reviews in DownBeat (3 1/2 stars) and JazzTimes.
Spiral has received radio airplay from some 40 stations nationwide along with positive critical reviews. In the summer of 2010 it achieved "Chartbound" status in the Jazz Weekly countdown, topping at #51 nationwide, (staying in the 50's for over 8 weeks), as well as #41 in the Roots Radio Report. To date CD has received over 440 spins, and has achieved media ranking of #10 in Boston (WGBH); #5 in Dallas (KNTU); #17 in San Diego (KSDS with over 40 spins); and peaking at #8 in Philadelphia.
Spiral received a great review (3 1/2 stars!) in the November issue of Downbeat Magazine.
The CD features 6 original compositions in a contemporary mode including "Spiral", "Ocean Blue", "Movin' On", "Remembering", "Summer Breezes", and "Like GS 2"; plus unique arrangements of three contemporary pop classics including "Friend of the Devil" by the psychedelic jam band icons the Grateful Dead; "(You're the) Biggest Part of Me" by the L.A. 70's studio sensation Ambrosia; and "My Own Prison" by the Alt Christian superstar rock band Creed; topped off by a lyrical and moving take on Tonhino Horta's beautiful jazz waltz, "Francisca" and a soaring rendition of pianist Richie Bierach's epic "Elm".The CD was recorded at the famed Red Rock Studios, Saylorsburg, PA, engineered by Kent.
Asked why he chose these tunes to record Dave said, "These songs, including the original compositions and the "cover" tunes, are all, for various reasons, close to my heart. They are like personal statements of where I am at in my life, musically and otherwise. When I make and play music like this I am trying to communicate such heartfelt sentiments to the listener, whether they are in the club, the concert hall, or listening to the recording."
Dave has performed at the Media, PA "Jazz by Night" festival, made regular appearances at Chris' Jazz Cafe in Philadelphia, The Berk's Jazz Fest, Harrisburg's American Music Festival, Bethlehem Muskiest, Bethlehem, PA and headlining at JazzFest in York, PA in both 2009 and 2010 with his Quartet featuring Jim Ridl, Tony Marino, and Adam Nussbaum (2009) and Phil Markowitz, Tony Marino, and Butch Reed in 2010. Dave also performed at The Scranton Jazz Festival and New York City's Somethin' Jazz Club (Formerly Miles Cafe) in 2011.
Wilson has worked with the likes of pianists Jim Ridl, Phil Markowitz, bassists Tony Marino and Steve Varner, drummers Adam Nussbaum, Bill Goodwin and Marko Marcinko as well as pianists Steve Rudolph, Matt Hochmiller, saxophonist Tim Warfield and Philadelphia based guitarist Steve Giordano among others.
For over twenty years, Dave keeps an active performance schedule logging an average of 150 dates a year with big bands and small ensembles at festivals, club dates and private engagements. Wilson resides in Lancaster, PA. where, when off stage, teaches woodwinds and also owns and operates Dave Wilson Musical Instruments, a business focusing on the buying and selling of vintage, modern and student brass and woodwind Instruments.
---