Karla Harris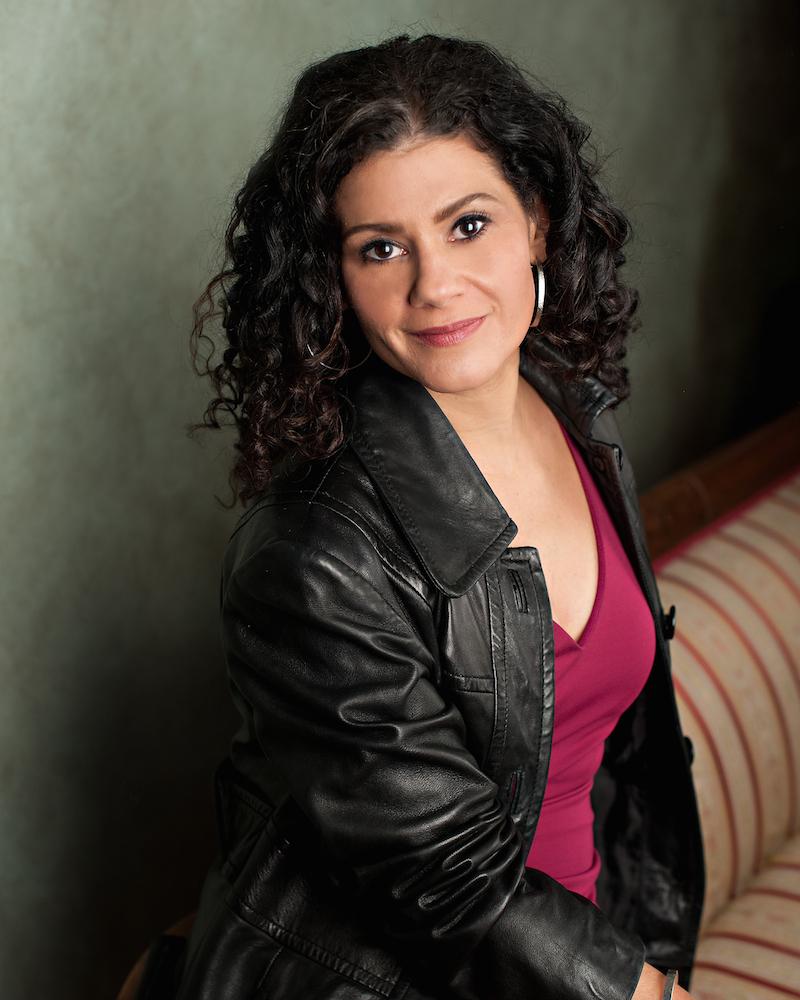 Biography
With a style and range that runs from velvety vulnerability to soul-tinged power, singer Karla Harris is known for jazz vocals that bring honeyed nuance, sophisticated warmth and dynamic delivery to the songs she sings. She weaves her influences of jazz, the standards, swing, blues and soul, as well as an affinity for Latin jazz, into a multi-textured musical tapestry, blending boundaries while remaining respectful to the roots of each tune. Her art lies not only in expansive vocals but also in a knack for tapping into the emotion of a song and delivering it fully.
KarlaHarris_hirez_couch_090-1Karla's love for singing started first with a love for words and the power of their expression, written or sung. As a girl, she often spent Saturday mornings writing little stories and Saturday afternoons transcribing lyrics from some favorites in her parents' eclectic album collection – Nancy Wilson, Barbra Streisand, Sammy Davis Jr., Billie Holiday, the Fifth Dimension … She sang those songs at shows she and her cousin put on for relatives at family gatherings, but her first taste of performing for a "real" audience came at age 10, when she sang a solo ("The Way We Were") during a grade-school choral concert. She continued on with talent shows, choirs, performing troupes, garage bands and piano lessons throughout her school years.
While in college during the '80s working toward her bachelor's degree in speech communications, Karla was asked to sing lead with the St. Louis Jazz Quartet, a Young Audiences group that performed a program introducing jazz in schools throughout St. Louis. The group featured well-loved Midwest jazz vocalist Jeanne Trevor, an early mentor for Karla. Soon after joining the jazz quartet, Karla also became lead vocalist with a popular dance band, living a dual musical experience that eventually worked hand-in-hand as she merged skills from each. She soon became known as a diverse and in-demand singer, working regularly with St. Louis' top groups.
In the early 2000s, Karla, drawn increasingly by the rich composition of the standards and the creativity of improv, followed a long-held desire to dive more deeply into jazz. She was fortunate during this time to begin singing in a quartet led by internationally acclaimed bassist Tom Kennedy, whose credits include such greats as Rosemary Clooney, Freddie Hubbard, Mike Stern, Lee Ritenour, Ben Vereen, Dave Weckl, and more. An invaluable experience, it helped pave the way when a 2005 move to the Pacific Northwest landed her in Portland, Oregon's, celebrated jazz scene. There, Karla began working with players such as Randy Porter (Diane Schuur, Gino Vanelli, Madelaine Eastman), Bobby Torres (Joe Cocker, Etta James), Steve Christofferson (Nancy King), Todd Strait (Kevin Mahogany, Eldar, Karrin Allyson), Mark Simon (Leroy Vinegar), Mike Horsfall (Chuck Redd, Pink Martini, Rebecca Kilgore), and more, further developing her skills and repertoire in that nurturing environment.
20080719karla-jazzfest-lg-2In Portland, Karla became a regularly featured artist at premier jazz rooms. She went on to perform at events such as the Newport Jazz Festival, Cathedral Park Jazz Festival, Bite of Oregon Festival, Portland Jazz Festival, Nantucket Arts Festival, and the Atlanta Jazz Party. Of her performances, WSIE Radio says Karla is "a powerful singer at ease in any setting, a singer for all seasons who makes any song memorable." Clubscene writes, "She engages us and makes us happy to be spending the evening with her." Her versatility is compelling. As one Atlanta fan put it, "Karla has more dimensions than the string theory."
Karla released her first CD, "Twice As Nice," a collaboration with Tom Kennedy, in 2007. Featuring Kennedy's arrangements, the recording is a collection of standards, including two songs each from favorite songwriters Jimmy McHugh, Cy Coleman, Harold Arlen, Johnny Mandel, Richard Rodgers and Burt Bacharach. Of the project, Jazz Scene Magazine writes, "Always respectful of her American Songbook choices, Harris has superb intonation and a contemporary, appealing approach to the songs."
In 2012, Karla relocated to Atlanta, where she performs with many of the city's first-call jazz artists in both combos and big bands. Through her work in Atlanta, she was introduced to L.A.-based pianist, composer, arranger and educator Ted Howe, producer of her latest recording, "Karla Harris Sings the Dave and Iola Brubeck Songbook." The CD is the first-ever studio recording dedicated exclusively to vocal versions of 11 Dave Brubeck compositions with lyrics written by his wife of 70 years, Iola Brubeck. It features Karla with Ted Howe, Tom Kennedy, drummer Dave Weckl and saxophonist Bob Sheppard. The project is scheduled for release in February 2015 on Summit Records, with a debut live performance following at the Sarasota Jazz Festival.
---