El Paso Wind Symphony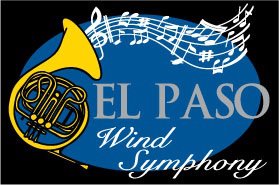 Biography
The El Paso Wind Symphony is a concert band organized by Dr. Ron Hufstader and a small group of El Paso area band directors in the spring of 1995. The band consists of Greater El Paso residents, most of whom are band directors in area public and private schools. The primary purposes of the group are 1) to present concerts of quality wind literature to the public on a professional level; 2) to provide educational opportunities for middle school, high school, and college instrumental students; and 3) to provide a role model for middle school, high school, and college band programs.
The Wind Symphony consists of approximately 45 players. This includes woodwind, brass, and percussion—the normal instrumentation for a concert band or wind ensemble. A 12-member Board of Directors is diligently working to find funding for the organization and to offer guidance for the group. This board is comprised of volunteers from the business and education fields who are donating their time and effort to help ensure the success of the Wind Symphony.
The basic season for the El Paso Wind Symphony consists of 5 concerts. These performances include a Holiday concert along with other "theme" concerts. In addition to the concert presentations, the Wind Symphony hosts an All-Region clinic and a Summer Music Camp for middle school and high school students. Wind Symphony members serve as clinicians and instructors for these events. It is through activities such as the concert presentations and hosting clinics and camps that the Wind Symphony is realizing the goals of the organization.