Mark Hetzler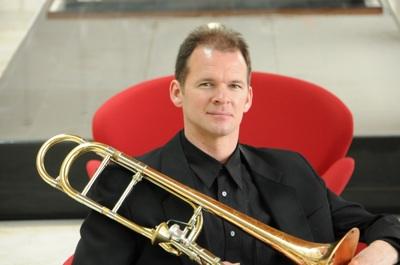 Biography
Born in Sarasota, Florida in 1968, Mark Hetzler began playing his Dad's trombone at the age of twelve. He went on to receive a B.M. from Boston University and an M.M. from the New England Conservatory of Music. Mark was a fellow at the Tanglewood Music Center and completed a three-year fellowship with the New World Symphony, under the direction of Michael Tilson Thomas.
As a member of the Empire Brass Quintet from 1996-2012, Mark performed in recital and as a soloist with symphony orchestras in Australia, Taiwan, Korea, China, Venezuela, Brazil, Japan, Hong Kong, Germany, Italy, Austria, Malaysia, Singapore, Switzerland, Bermuda, St. Bartholomew and across the United States. He has appeared with the group on live television and radio broadcasts in Asia and the United States. Mark appears on several Empire Brass CDs on the Telarc label, including Firedance, The Glory of Gabrieli, and a recording of Baroque music for Brass and Organ.
Mark has released six solo recordings on the Summit record label: American Voices, featuring arrangements and original compositions of American composers; Serious Songs, Sad Faces, showcasing his own arrangements of vocal music on the subject of sorrow, loss and consolation; and 20th Century Architects, which includes the music of Shostakovich, Stravinsky, Schoenberg and other great modern composers. His fourth Summit recording, American Voices, Vol. 2: Sonatas has four stunning sonatas by the American composers Leonard Bernstein, John Stevens, James Stephenson and Joseph Blaha, and was released in the Fall of 2009. A fifth Summit release, Dynamic Elements, was released in the Spring of 2011 and explores innovative works for solo trombone with interactive computer technology, altered acoustic treatments, and analog and digital effects processing. In August 2012 Mark released Three Views, a collection of works for trombone, piano and percussion.
Active in the creation of new music, Mark has worked with composers in some of the leading new music research studios around the world. In 2004 he commissioned NYU Professor Dr. Robert Rowe to write a composition that utilizes a computer program that Dr. Rowe created, in which the computer listens and responds to the live performer. In another collaborative effort, University of Florida composer Chester Udell composed Brass Alchemist for Mr. Hetzler, a work that incorporates a variety of technological applications, including MAX software. After a successful premiere at the New York Electro-Acoustic Music Festival, the work went on to win the First Prize in Composition at the 2010 Society for Electro-Acoustic Music's yearly festival in St. Cloud, MN. Recent commissions include two new works from composers David Vayo and Mark Engebretson, both writing for mark's experimental jazz/rock quartet Sinister Resonance.
Mark has also created a series of multi-media programs which involve the live performance of diverse musical styles in coordination with original video and photography. Creating visual material as an extension of his musical interpretation, his concerts involve projected images, as well as the use of sophisticated music technology and a multitude of instrumental combinations. His multi-media program Visions of America has been performed at a variety of venues, including a July 4th concert on the 2006 Interlochen Arts Festival Summer Series. Mark's productions have been performed in art galleries, concert halls, outdoor venues and at New Music festivals in New York, Florida, Michigan and throughout Wisconsin.
Former Principal Trombone of the Hartford Symphony Orchestra, Mark has performed with the Minnesota Orchestra, the Boston Symphony Orchestra, the Boston Pops and the Florida Orchestra. Mark is a Valade Fellow teaching trombone and chamber music at the Interlochen Summer Arts Festival. He is the Associate Professor of Trombone at the University of Wisconsin-Madison and a member of the Wisconsin Brass Quintet.
---